Sat ,02/12/2017
Sneaker Wars: The Enemy Brothers Who Founded Adidas & Puma & the Family Feud That Forever Changed the Business of Sports
This is quite frankly, one of the craziest (nonfiction) books I've ever read. It tells the story of Adi Dassler and his rival, Rudi – as they created and fought for business over the decades since just before WWII with Adidas and Puma, respectively.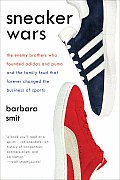 But arguably the most crazy (and interesting) part of the story is Adi's son Horst, who literally built the Adidas brand and worldwide presence we know today, through athlete product endorsements, additional clothing lines and relentless promotion across nearly every sport imaginable. From the way the book portrays him, he's all but a head of state in many ways, especially given the relationships he creates and cultivates until he passes away at a fairly young age in his early 50s.
Puma is kind of an also-ran in the later years as depicted in this book (Rudi also had a rival son to Horst, but seems to continually come up short on nearly all fronts, save for a few cases) – but it's also interesting to see along the way how Phil Knight learned the lessons of Horst well and built his own, even bigger shoe and clothing empire starting with one Michael Jordan….the research that went into this book is top-notch and obviously took years to accumulate and review, especially given these are private companies, not governments or public entities.
defnitely one of the best books I've read this year.
candybowl